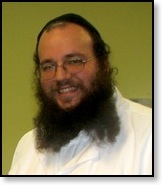 Rabbi Dr. David Botton is a licensed Acupuncture Physician, board certified by the NCCAOM and insured. Dr. Botton works with children and adults and specializes in herbology and acupuncture for internal medicine for acute and chronic illness, pain, fertility issues, insomnia, stress and mental issues. Dr. Botton is also a practicing Orthodox Rabbi and holds a P.h.D. in Rabbinical Studies in addition to his traditional Semicha (ordination) from Israel. Rabbi Dr. Botton has been doing marriage, family and life counseling for the last seven years in South Florida and is available if needed for personal and family counseling needs as well.
Dr. David Botton began his journey in to herbology and chinese medicine 19 years ago when researching ancient medical systems of the middle east. In his research he found many of the historians and traditional medical researches had discounted the medicinals that were traditionally used for more than 2000 years as being ineffectual either from the start or due to changes in the nature of man. This notion seemed an impossibility to Dr. Botton, so he began to experiment and do additional research into medical systems in other regions. The results were clear, the key to effective herbal medicines and traditional therapies is the preparation and methods used. There was a subtle edge to the functionality of these ancient medicines that was missed by the modern system of intense stimulation and potent chemicals.
Dr. Botton's journey lead him through homeopathy and both western and eastern systems of herbology, in the process Dr. Botton obtained his degrees and licensing in Homeopathy and Chinese Medicine including Herbology, Acupuncture, Tui Na, and Diet Therapy. He has since built a full time practice in Chinese Medicine and East/West Herbology in South Florida.
Rabbi/Dr. Botton maintains a regular schedule of lectures in and out of the clinic on topics in Chinese Medicine, Herbology, Personal Growth and Success, and Jewish Law and Thought. Please feel free to contact him for speaking engagements and lecture series.